If Backuptrans Viber Transfer can not detect your Android phone via USB, just follow this tutorial step by step to connect via wifi.
Transfer Viber Messages on Android via Wifi
Step 0: Click "Tools"->"Check for update" in Backuptrans on computer to make sure you are using the latest version software.
A): For backing up messages from Android, make sure you can view chat messages inside Viber app on android. B): For transferring messages to Android, make sure you have backed up messages from your old phone into Backuptrans local database on computer.
Step 1: Backup Viber chat messages to Google Drive
1. Open Viber
2. Select the more options screen
3. Select Settings
4. Tap on Account
5. Select Viber Backup
6. Choose Back up
7. Wait while Viber backs up your data (this can take a while)
Note: Skip this step if you are using a new Android Phone without any Viber message. Just make sure you have installed the Viber app on Android Phone. Refer to the Viber Support for more detaila about messages backup.
Step 2: Download AppClone(two APK files) from the following links on your Android Phone and install.
For Android 9:
https://www.backuptrans.com/appclone64sup.apk.php?r
https://www.backuptrans.com/appclone64.apk.php?r&api=28
For Android 7 & 8:
https://www.backuptrans.com/appclone64sup.apk.php?r
https://www.backuptrans.com/appclone64.apk.php?r

Note: If you are using an old Android Phone with 32bit OS, just download the following one instead.
https://www.backuptrans.com/appclone.apk.php?r
Step 3:Copy Viber Chat Messages to AppClone.
1: Open AppClone on Android Phone.
2 Tap More -> Speed Mode to make it OFF.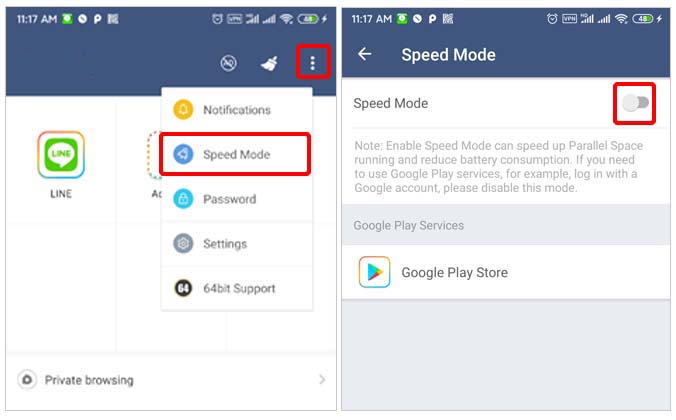 3: Tap Add App to add Viber into the AppClone space.
4: Login Viber with your account and restore chats from Google Drive.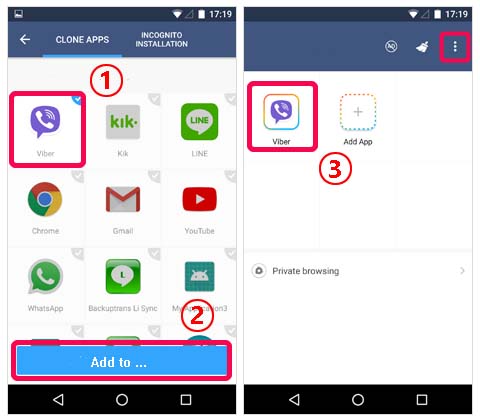 Step 4: Connect Android to Backuptrans via WiFi
1. Download and install the latest version Backuptrans VB Sync from Google Play on your Android. Or you can download from the following link directly to install on Android Phone.
https://www.backuptrans.com/backuptrans-vb-sync.apk.php?r
2. After installed, open Backuptrans VB Sync on Android Phone, tap "Connection" button then you will see an IP info.
3. Run Backuptrans Line Transfer software on your computer, click "Tools"->"Connect via wifi" and then enter the IP info to connect your phone via wifi.
Done. Now you can transfer the Viber chats messages for your Android with Backuptrans software.
..
If you have any further question, please contact us at support@backuptrans.com.
comments powered by